Finding luggage storage locations near the Vatican Museums and St Peter Square is essential if you want to visit one of Rome's most fascinating attractions without stress and worries.
Inside the museums, there are very strict laws that, if violated, force the authorized personnel to expel the visitor.
In addition, before starting the tour of the museums, it's necessary to leave the following items in the cloakroom:
Food and drink
Each piece of luggage larger than 40 x 35 x 25 cm.
Large backpacks.
Umbrellas, signs, easels and sticks (with the exception of those used for walking).
Scissors, knives or other metal material that could pose a danger to things and people.
Other forbidden items.
Although the cloakroom is for free and allows you to store many things, some limitations could ruin your day.
As stated in the official Vatican Museums cloakroom regulations, visitors can't leave the following items in the cloakroom:
Money, wallets and checkbooks.
Mobile devices, such as mobile phones, tablets and laptops.
Cameras.
Coats and jackets.
Other forbidden items.
Maybe you don't know that your luggage can be destroyed
Luggage not collected within 48 hours will be automatically destroyed. What? Yeah, you've read it right. Rules are rules!
Since unforeseen events are always lurking around the corner, we advise you to use the luggage storage services a few meters from the Vatican Museums. In this way, you'll make the most of your day and, of course, avoid any damage to your property!
Moreover, touring the Vatican Museums takes you at least 3 hours (not to mention the queueing time). So, even if you have a very small backpack or a handbag with you, it's much better to leave it in an external left luggage facility.
Rule number one: make sure you choose a reliable luggage storage service with verified partners.
Among the companies that offer such services, Radical Storage is the only one that provides you with secure locations at a competitive price.
Leave your luggage with our Angels, reliable companies that will take care of your belongings from the first to the last minute.
Contrary to the Vatican Museums' cloakroom, Radical Storage ensures flexibility.
A sigh of relief
At Radical Storage's Angels, if you can't collect your luggage during the whole day.
Collect it the next day just paying an extra day. It's possible to change the booking details on your dashboard.
Not all of our agents place security seals on your luggage, but they do store it carefully in video surveilled areas.
If you arrived in Rome too early, you can find great service minutes walking from St Peter's Basilica. Our storage network will be your faithful companion during your tour.

Luggage storage Vatican Museums: price
Due to the COVID-2019 pandemic, access times and the number of visitors admitted to the Vatican museums have been reduced.
To enter the Vatican Museums safely, you must book your ticket online and respect all the rules.
Live your life to the fullest and book with Radical Storage! It has several luggage storage solutions a few meters from the entrance to the Vatican Museums. It costs only €5 per day and per bag. There are no additional costs and no weight or size limitations.
You can leave a trolley case, a musical instrument, or a backpack for €5 a day! Each piece of luggage stored is protected by a security guarantee.
Payment is contactless, you can simply use your credit card.
But that's not all! By booking a luggage storage option near the Vatican Museums with Radical, you'll have at your disposal a 24/7 customer support. Reach out to our customer service opening the app or entering the website.
Here you find the complete map with all our luggage storage facilities just a few meters from the Vatican Museums.
A dream tour along the Vatican Museums
Now that you've gotten rid of all your luggage and worries, all you have to do is enjoy a visit to one of the most interesting places in the world!
After a three-month shutdown brought on by the coronavirus pandemic, the Vatican Museums opened their doors again.
Often underrated, these jaw-dropping galleries contain some of the largest art collections in the world – perhaps the largest collection of exhibits you'll ever see.
Have you noticed that you're referring to Vatican museums and not to a single Vatican Museum?
Within this large complex building, there are several galleries, such as the Vatican Art Gallery, the Pio-Clementino Museum, or the Gallery of Maps.
The Sistine Chapel is a dream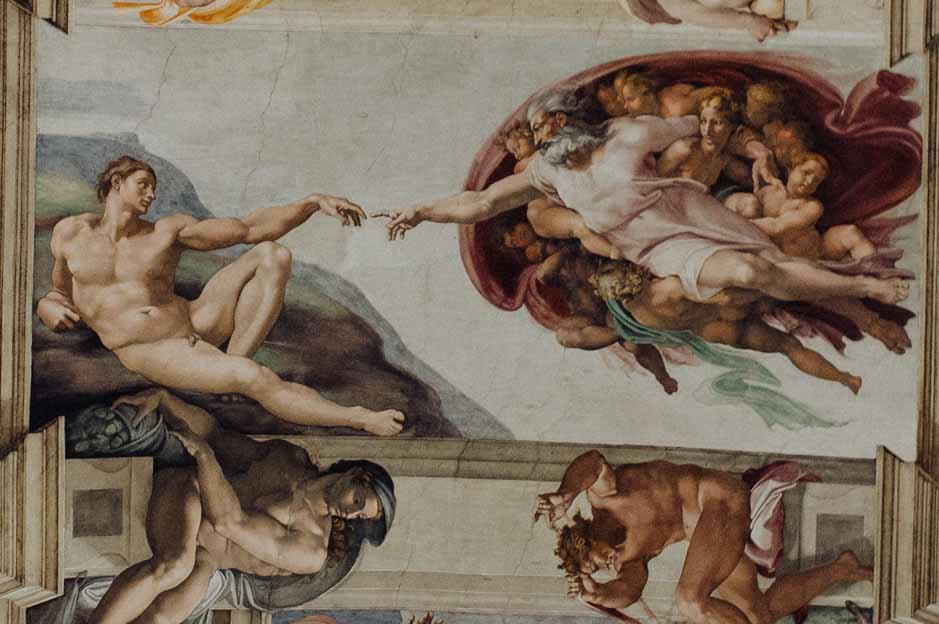 The most awaited moment for visitors, however, is the arrival at the famous Sistine Chapel, one of the Vatican treasures.
This Chapel isn't famous just for its structure, but for the frescoes on its ceiling.
Painted by Michelangelo Buonarroti in four years, these frescoes of inhuman beauty depict the Creation of Adam and the Last Judgement.
Goethe wrote, "Without having seen the Sistine Chapel, one can form no appreciable idea of what one man is capable of achieving."
Indeed, visiting this Vatican City attraction is an unforgettable experience and should be repeated several times in a lifetime.
Vatican Museums Tickets
You can purchase your ticket to the Vatican Museums and the Sistine Chapel from the official website.
A single ticket costs €17. The cost of the ticket includes the Sistine Chapel.
Don't like queuing? You can book a skip-the-line ticket for €19.90. Audio guide included (Chinese, Korean, French, German, English, Japanese, Italian, Portuguese, Russian, Spanish, Italian).
Even if more expensive, these tickets are cancellable up to 24 hours before the date of the visit.
Keep following our posts to find the best luggage storage guides around the world.
Related Posts: