If you are looking for a luggage storage option in Florence, this guide will help you better understand what's the best service for you.
Just like all the most visited cities, you should tour the Tuscan capital with a light heart and hands-free.
But what if you have heavy luggage with you because you arrived too early and your room is not ready yet? Or, if after check-out, your Airbnb has not agreed to keep your luggage for a few more hours?
Can you imagine how hard would it be to walk for 5-6 hours or an entire day with a heavy backpack or a trolley by your side?
If this idea doesn't appeal to you, know that Florence is a very dynamic city, with an efficient transport system and many luggage storage services.
In Florence, you'll also find safe storage facilities that cost only €5 per day (without any additional fees). Read on to discover all the details.

Store your bags in Florence – Price
The price of luggage storage in Florence depends on the type of service you prefer.
In the Tuscan capital, there are storage points that charge an hourly rate per bag and others that charge a fixed daily fee.
To select the more convenient one, you should consider how many days you want to leave your luggage and the security features you're looking for.
Luggage Storage Florence – Useful tips
For example, dropping off your luggage inside lockers could be convenient if you need a few hours of freedom, but it also has cons. Sometimes, the lockers may not be big enough for your suitcase and, besides, if you have a piece of very bulky luggage, you'll have to pay more.
Also, the price of lockers isn't at all low compared to flat-rate services. Leaving a small suitcase for 3 hours will cost you € 5.49 + 0.50 service.
Luggage storage Florence – The most affordable solution
If you think that a luggage storage service in Florence will cost you a fortune, we'll change your mind.
In Florence and other cities worldwide, there are luggage storage systems that cost little and provide maximum security.
You can book these services directly from your smartphone or tablet.
There are also convenient apps that allow you to reserve a reliable place for your belongings in the blink of an eye.
But let's check all the details.
Why choose the Radical Storage network
Radical Storage is a service managed by a very reliable Italian team that partnered up with several companies around the world.
Our storage points are bars, hotels, or restaurants that provide all travelers with safe spaces or rooms within their premises.
Book your location
The Radical Storage system is a piece of cake.
Enter the dedicated website or download the Radical Storage App.
Enable geolocation or manually enter your address.
Choose the storage location among those proposed that suits your needs.
Book and pay securely.
Get all the information you need to reach our partner (address, google coordinates, phone number and email address).
The cost of Radical Storage is only €5 per day/bag. There's no additional cost or extra fee. You pay a fixed price.
Also, we offer an always active customer service that can help you from the first to the last moment.
Most popular luggage storage places in Florence
If you don't need luggage storage at Florence Train Station, you can view the whole list of available locations.
To see all the opening hours of the storage location, check the specific page while booking.
Now that you know everything about Florence's luggage storage services, we want to give you an overview of all the things to see in the city if you only have a few hours.
Are you ready? Let's go!
What to do in Florence with only a few hours
Did you left the hotel and don't know how to spend the hours between now and your departure?
Don't worry, below you will find 5 brilliant ideas that will make you enjoy the city until the last minute.
Visit Uffizi Galleries
Although the duration of the visit is very subjective, it takes, on average 3 hours to explore this wonderful museum.
The Uffizi Galleries are located right in the Old Town, a few meters from the Old Bridge (Ponte Vecchio) and Piazza Della Signoria.
Tickets
You can purchase a ticket in advance, selecting the day and time, and then enter directly.
You can also buy your ticket online from the official website or take advantage of different skip-the-line services.
Exhibtions
The art gallery is located on the first and second floor of a sixteenth-century building, designed by the famous Italian architect Giorgio Vasari.
It houses paintings and sculptures from the Middle Ages to the present day.
The collection of paintings from the 14th century to the Renaissance boasts masterpieces by Giotto, Leonardo, Raphael, Botticelli, Michelangelo, and Caravaggio.
Many art critics consider the Uffizi the most important museum in the world.
Address: Piazzale degli Uffizi, 6, 50122 Firenze FI.
✅Good for true art lovers.
Look at Florence from above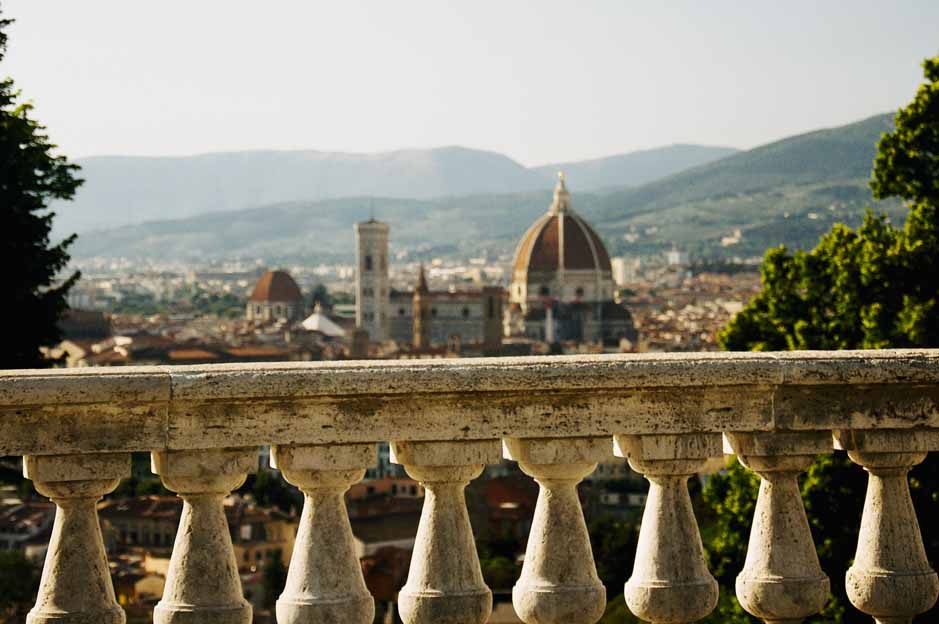 If you love taking beautiful photos or if you're on vacation with your partner, we recommend you go to Piazzale Michelangelo, also called Florence's Terrace.
It was built at the end of 1800 by the architect Giuseppe Poggi on a hill overlooking the Old Town. The square was then dedicated to Michelangelo, considered one of the greatest artists of all time.
The panorama embraces the heart of the city, Santa Croce and Forte Belvedere. You can clearly see Florence's bridges in sequence, the Cathedral, and the octagonal bell tower. From here, you can also admire the Northern hills of the city.
Address: Piazzale Michelangelo, 50125 Firenze FI.
✅Good for Instagrammers.
Climb Brunelleschi's Dome
If you don't have a lot of time and want to do something exciting, then you should definitely buy a ticket to visit Brunelleschi's dome.
To get there, you can purchase tickets on the official website or through the skip-the-line services. You can also buy tickets on-site (but there may be a long queue).
Climbing the dome of the Cathedral is a unique experience that allows you to enjoy splendid frescoes, discover the secrets of the building, and visit the emblematic hidden terrace.
Address: Piazza del Duomo, 50122 Firenze FI.
✅Good for explorers.
Basilica of Santa Maria Novella
A drop by this Basilica is the ideal solution if you have very little time.
The building is only 220 meters from the central station (Firenze Santa Maria Novella Station) and is still one of the most important churches in Florence.
Even if you won't find detailed information about this Basilica on the most popular travel blogs, Santa Maria Novella has some gems you shouldn't miss.
Inside, there are lesser-known masterpieces, such as the Crucifix painted by Giotto, the wooden Crucifix sculpted by Brunelleschi, and the Trinity by Masaccio, a fresco located in the third span of the left aisle.
Address: Piazza di Santa Maria Novella, 18, 50123 Firenze FI.
✅Good for those who love sacred art.